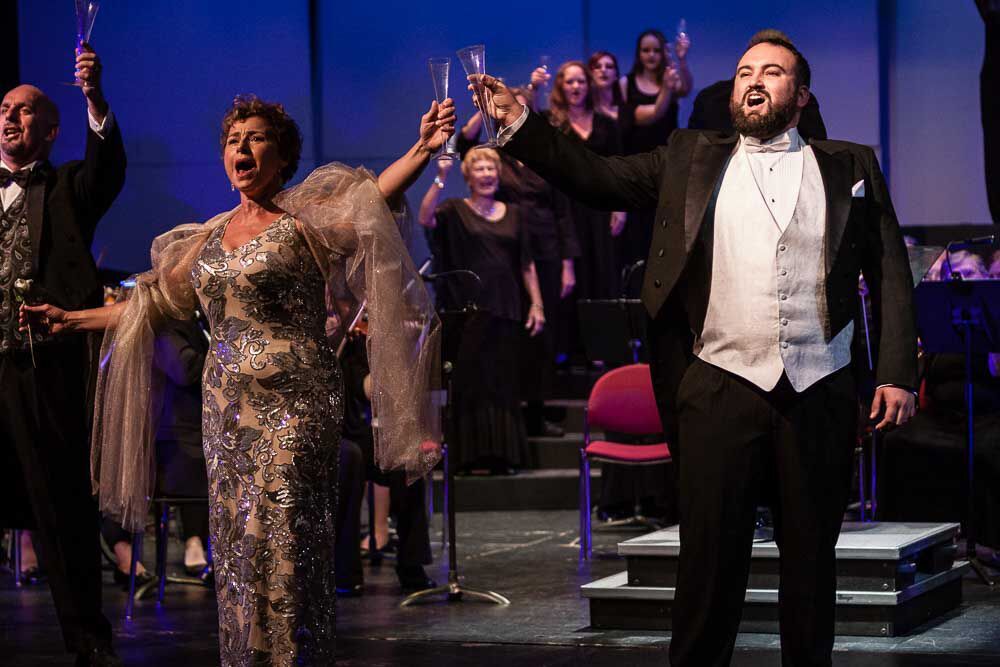 Opera AACC celebrated its 15th anniversary on Sept. 30 and Oct. 1 at the Robert E. Kauffman Theater.
Producer Douglas Brandt Byerly and director Dr. Anna Binneweg helped create two performances over the weekend.
AACC Symphony Orchestra, along with faculty, guest artists, alumnus, featured soloists and Overlea High School Singers, joined Opera AACC to celebrate their anniversary.
The concert included classical music such as Giuseppe Verdi's "La Traviata," and Georges Bizet's "Carmen." Also, other fan favorites like Leonard Bernstein's "West Side Story."
After each composition, the audience roared with applause.
Byerly, producer of the Opera AACC, and a teacher here at AACC sung in the performance and played the role of Pirate King during the performance of "The Pirate King Song," which is part of Gilbert and Sullivan's "The Pirates of Penzance."
Byerly said he was proud of how the show went overall.
"I'm so proud of the students; and the faculty for mentoring these students as well." Byerly said. "Because when you have over 120 people on stage, there is no way you can do it by yourself. Dr. Binneweg, myself, and a lot of faculty were involved."
Students and performers were also proud and impressed with the performance.
Ashley Hilton, an associate of arts major, sings in the concert choir.
Hilton said that there was a lot of dedication to get ready for the performance.
"We actually got our music on Aug. 29, which was the first class meeting and we were expected to be off book by this past Thursday," Hilton said. "So, we had about five weeks to learn French and Italian. It was insane."
Josh Madden, a sophomore and undecided major, a student of professor Byerly was also a part of the production.
"My teacher Mr. Byerly, who was "The Pirate King," and he was looking for ushers. And I wanted to come anyways; to see how the event went."
When asked his opinion on the show he said, "I actually loved it. It was my second time seeing it."
Opera AACC and the AACC Symphony Orchestra kicked off an amazing month for performance arts here on campus, said Madden.
The Performing Arts department will host more events throughout the month such as a Jazz concert and Maasai Dancers of Kenya.