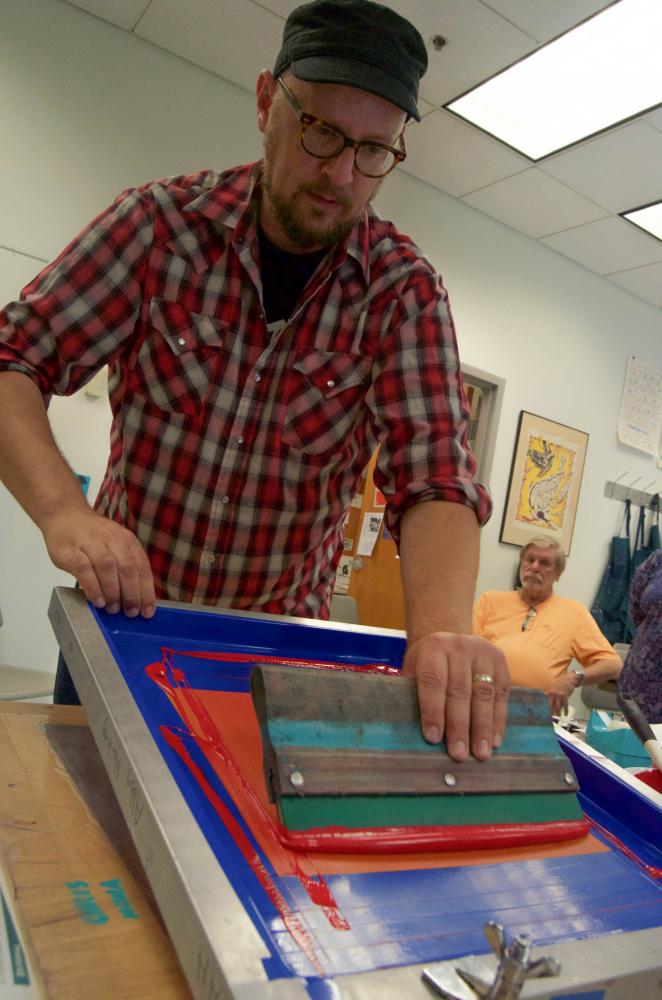 Photo by Brandon Hamilton
An artist who designed posters for the rock duo The White Stripes told AACC students Sept. 20 it's hard to get work in the screen printing industry.
"The music industry is so saturated with people … that it's harder to get work doing it and getting paid for it," said Michael Byzewski, founder of Aesthetic Apparatus, a screen printing business in Minneapolis.
"[Byzewski] allowed us to really ask him a lot of questions [about] a very difficult job to get into as a beginner artist," said sophomore Edgar Salomon, a visual arts student. "As art students, [it's] our dream job."
Typically, Byzewski designs posters for four or five bands throughout the year.
In an interview with Campus Current before his presentation, Byzewski said he builds his posters around the "vibe" and emotion coming from the music his clients produce.
"[The design] might not be a literal idea, but just an abstract response to what I hear," Byzewski said.
Byzewski said a lot of his inspiration comes from collecting work from other artists or found objects and using those various styles and designs to create something new.
"[I use] a lot of things found out on the streets: old advertising, old ad work, old medical illustrations on anatomy," he said.
Byzewski has made posters for a number of bands throughout the years, including Cake, Yeah Yeah Yeahs and Heart.
"He was super approachable and the art is absolutely beautiful," said Kat Pheiffer, a returning visual arts student.