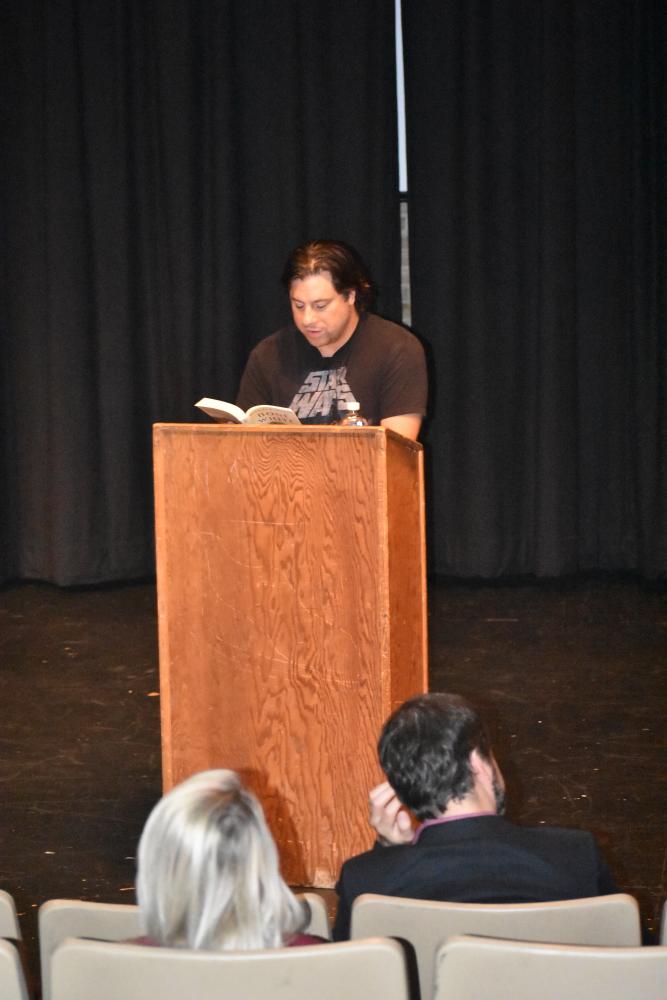 Photo by Sarah Alonso
An AACC alumnus returned for the third time on Sept. 21 to read an excerpt from his latest novel.
Horror writer Ronald Malfi, a 1997 graduate of AACC, came to read a portion of his newest novel "Bone White."
In Malfi's latest book, which came out in July, the main character Paul sets out to find his twin brother Danny, who he believes is missing in Alaska.
On his website, Malfi calls "Bone White" his "creepiest book to date."
Malfi explained that horror fiction was the first thing he "gravitated towards."
"As a kid, I was terrified of everything," Malfi told the audience. "But I think a lot of people who are afraid of things kind of like to be scared."
Malfi credits Stephen King as a "very big influence."
After the reading, Malfi held a question-and-answer session and offered copies of his new book for sale to participants.
The questions ranged from how he got into the genre to advice and writing tips for aspiring authors in the crowd.
Abigail Dismore, first- year baking and pastry major, said she "gained a lot" from the reading.
"I've always been interested in writing, and the fact that it was a horror writer reading really interested me," Dismore said.
Amaranth, AACC's student literary magazine, published Malfi's story, "Blue," in 1997.
Malfi has won a number of literary awards, including the American Library Association's Year's Best in Genre Fiction 2016.