Students note more pullovers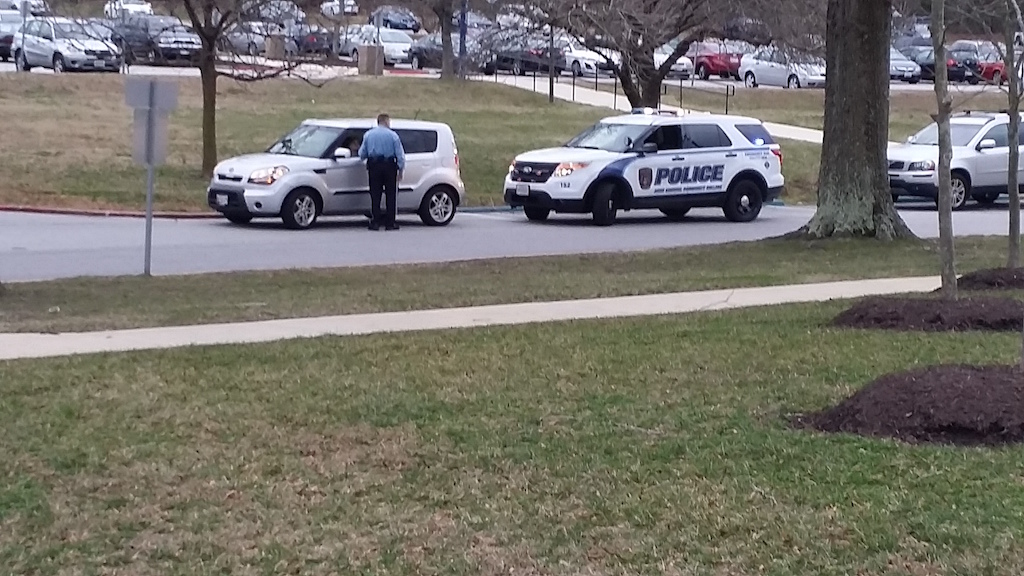 Brad Dress, Associate Editor
May 1, 2017
Some AACC students have reported an increased amount of pullovers in the Spring 2017 semester.
Rachel Corn, a second-year transfer student, said she has seen police pull over vehicles almost every day. She added that she "did not notice much" of police pulling people over last semester.
Charles Owens, a second-year computer science major, corroborated Corn's observation.
"[I] hardly [saw] them at all last semester," Owens said. "[But I have] seen them all the time [this semester]."
But police officer Donald Medtart said the pullovers are nothing new. Medtart said since the Department of Public Safety & Police hired him on Dec. 1, 2015, he "saw a need for traffic enforcement" and wanted to step it up on campus.
Medtart said his law enforcement background prior to working at AACC revolved heavily around traffic enforcement, so he brought his expertise to the campus to make it safer.
Medtart said he believes that proactive traffic enforcement on campus will decrease the number of accidents.
In 2015, there were 15 Automated Crash Reporting System reports, which are logged when a severe accident has occurred.
In 2016, there were 13 serious accidents on campus, and as of April, there have been three accident reports this year.
"Accidents are down," Medtart said. "[We] let people know we are out here and being diligent … [and] get people to really think. The last thing we want is for people to come here and have their car damaged."
And most of the campus residents are unaware of the rules, he added. Most accidents occur in the parking lot because students think they can speed there, and they also don't correctly halt at stop signs, he said, adding that it can cause accidents.
The speed limit on 99 percent of the campus is 15 mph, according to Medtart. He added that most students don't know that, so pulling them over and warning them will increase awareness.
"[We are] not here to slam people," Medtart said. "[The police] don't get any money [for citations]. … [It's] more of an education and to teach people."
Terrell Johnson, a first-year English major, explained that when police pulled him over in late December for speeding, it was "completely unnecessary" and the cop didn't even know how fast he had been going.
He described it as a "weird" experience, and said the cop didn't clock his speed. He also got off with only a warning.
Johnson said he likes the police, but sometimes they "mess with people just to mess with people."
But other students explained it makes sense what the police are trying to accomplish.
"I understand what they are trying to do; as long as they are not putting anything on record for something as small as not stopping for three seconds," Jacob Baumgart, a JumpStart student, said.
Campus police can either give a student a state citation or a college one. The state citations cost more money and stay on record for three years.
A college violation, however, must be paid at the cashier's office within 30 days, or the student may not be able to enroll in the future.