AACC hosts college representatives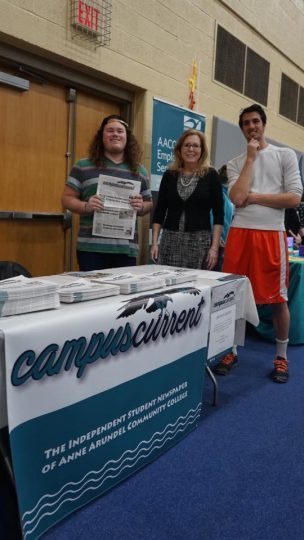 AACC and Anne Arundel County Public Schools hosted its annual college fair on March 9.
Over 140 college representatives came out to talk about their different programs and what their school has to offer.
"We put out request for different colleges to come out and [the representatives] respond," Quentin Frost, administrative assistant of continuing education and workforce development said.
While some schools had informational boards about their different programs, other colleges used technology to give a more virtual representation.
"I liked how West Virginia University had their virtual tour on an iPad. I was able to take a look at their website, which I thought was pretty cool as well," Jake Scarlas, a Meade High School senior, said.
There were over 900 Anne Arundel County high schoolers, parents and AACC students at the fair.
"Mostly high school students come but it is a good source for students here at AACC who are transferring," said Mary Andel, a professor of the Student Success course at AACC.
"I have been coming here for the past three years," Jesse Bosco, admission counselor at Monmouth University, said. "I like talking to the different students; rather that be high schoolers or transfer."
Students also had the opportunity to talk to AACC professors and representatives from different departments and job training programs.
AACC and Anne Arundel County Public Schools partner up and host the college fair every year in the spring semester.