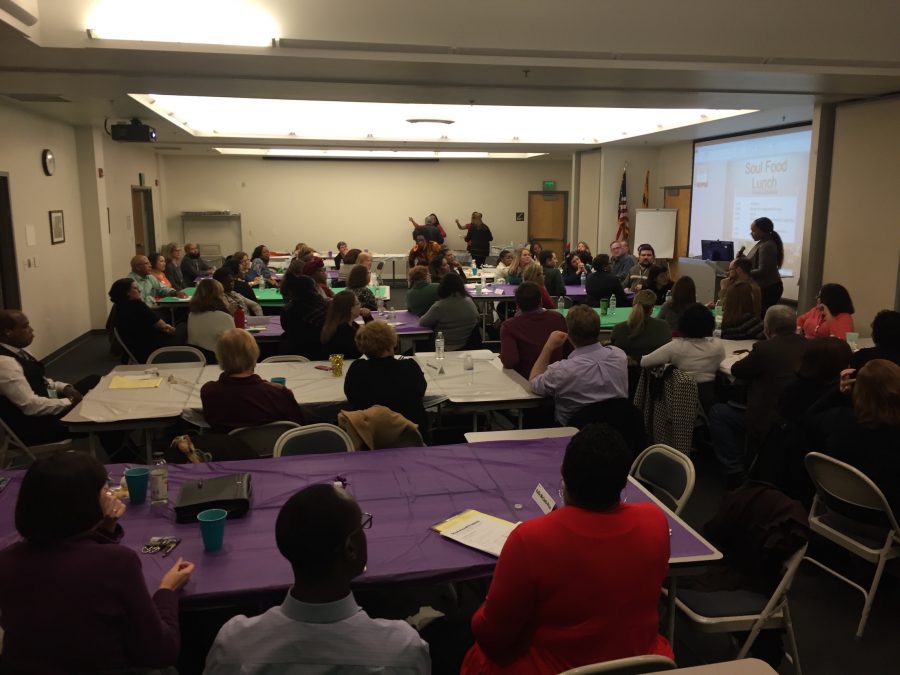 Photo taken by Britney Pieraldi
AACC faculty spoke deeply about racial issues at a Black History Month luncheon on Feb. 1.
In "Intimate Conversations over Lunch," faculty and staff gathered in the CALT building for a soul food lunch consisting of fried chicken, macaroni, spinach, corn bread and cake.
AACC staff sat at tables headed by facilitators. The facilitators asked the tables to answer questions regarding racial issues, which prompted discussions about race in the workplace.
At the end of the first hour, Nicole Williams, the program coordinator for human services and the event host, asked the facilitators to stand up and speak about what the tables said.
"[I] wanted people to [make] intimate connections about race," Williams said.
Williams said the event was held last year as well, but she wanted to add more flavor to it this year with the addition of group discussions.
The participants at the event said they enjoyed it.
"It was a very interesting discussion," Tricia Acton, an internship and job developer at AACC, said. "In general I heard opinions from a lot of different people, and that is always a good thing."
The event took place from 12-2 p.m. at the CALT building, room 100.
April Comithier Anderson, a human resource consultant and Regina Macklin, the office manager for the school of health services, were a few faculty members who helped to coordinate the event.