Opera club plays Magic Flute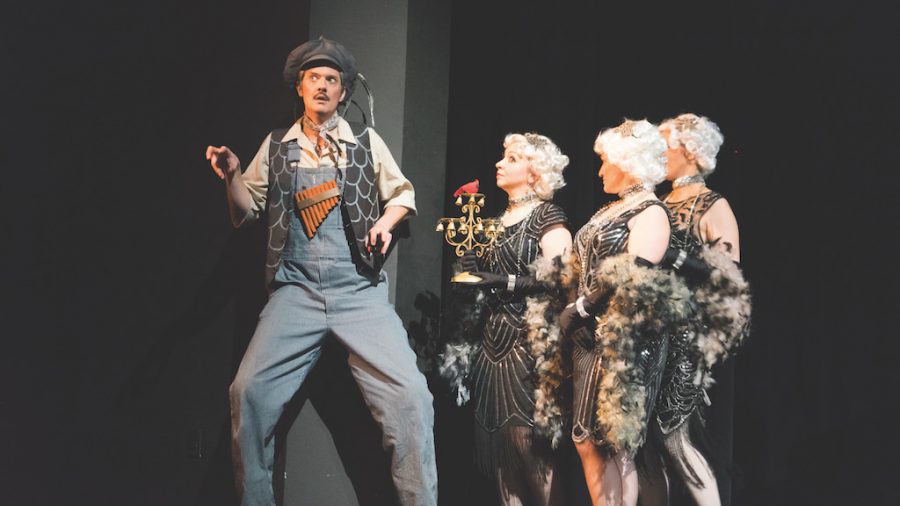 Brad Dress, Associate Editor
February 2, 2017
AACC's Opera Club blended music and live theater in a rendition of a Mozart classic on Feb. 1.
The near three-hour performance of The Magic Flute also had elements of comedy and a full story, as well as a complete cast of actors.
One of the main elements, however, was opera. Each main character sang opera in place of dialogue, although at times, normal dialogue was spoken.
Words were scrawled through a projector onto a screen above the stage, so the audience could view the words related to the plot as the songs were produced.
Characters were adorned in various outfits befitting their roles, such as priest robes, black, sparkly dresses and one character, dressed in blue overalls, had a bird cage.
The main stage changed frequently to accommodate different scenes. Stairs on stage were shifted and adjusted to create new scenes for the characters, and a screen on the back showed a picture of scenery related to the story; when the characters walked through the mountain paths at one time, the screen displayed the scene.
A live orchestra band underneath the stage played during every song, and the characters even sang with the orchestra at given times.
Douglas Byerly, the director for the Magic Flute, said there was a large audience and it was a great performance.
"The Magic Flute addresses a lot of the issues [we have today]," Byerly said. "It shows us that love and friendship can overcome the darkness and the evil."
Students in the audience said they enjoyed the performance.
"It was eye opening," Emily Sullivan, a second-year information systems major, said. "It was interesting seeing people that were more regular doing [opera]."
The story involves a prince stumbling into an unknown land ruled by a queen. The queen tells him if he rescues her daughter, the princess, from an "evil" priest, he can win her hand. Blinded by love, the prince embarks on the quest with a side-kick, but when he gets there, all may not be as it seems.