Moving On And Moving Up: Looking Back At AACC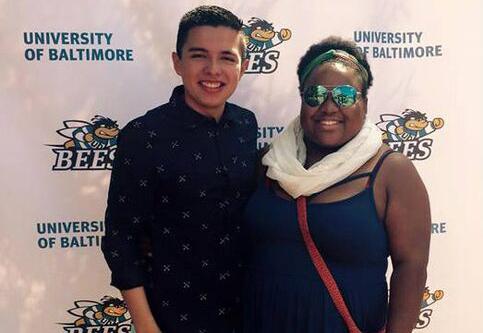 It's no secret Teisha Miles and Chris Pineda changed AACC for the better. The bulk of those changes happened during their terms last year in the Student Government Association and Campus Activities Board. With a new smoking policy and dozens of events under their belts, they are on to bigger and better things.
Miles and Pineda met when Miles was an orientation leader, and Pineda was a student on her tour, but it wasn't until they both joined SGA that they became friends. At the beginning of 2014, Miles was elected CAB President, and Pineda was promoted from SGA Vice President to President. They shared an office for a year and a half and bonded over their love of serving the student body.
Now best friends, this semester Miles and Pineda moved together to an apartment at the University of Baltimore, and they both still have their plates full! Miles is majoring in Community Studies and Civic Engagement while also working on campus as Vice President of the Student Events Board, Social Media Ambassador, and Resident Assistant. Pineda is majoring in Government and Public Policy while working as the Operation Supervisor of Campus Recreation and Wellness. UB has had its own new experiences and challenges.
"Living on campus is a new experience, but it's really awesome," Miles says. "Connecting with such a diverse population on a larger scale is eye opening. And dealing with events is different here than at AACC. Learning how UB operates has been one of the biggest challenges, but it's been a really rewarding experience."
"It's fun seeing how everything works on a different scale than community college," Pineda adds. "Everything is a different process: administration, clubs, organizations."
Though they still miss Arnold, they are thriving at their new school, and AACC was a great foundation for them.
"AACC has given me the confidence to be in a leadership role, skills to lead others, and academically prepared me to succeed in Math and English," Miles says.
Pineda adds that the school gave him "leadership skills, patience, time management skills, and adaptability."
Both of them say it was hard for them to leave AACC, which they refer to as their "home base."
"All of our role models are there," Miles reminisces. "Our support system stems from there. It was like leaving home. Doing it together made it easier, and living together is a new experience – different from sharing an office. But it's fun!"
"I don't think I was scared," Pineda says. "But I knew it was going to be a different experience transitioning from a high-level leadership position to just being a student. I've left a lot of the workload behind, so I can focus more on school."
Both Miles and Pineda hope to come back to AACC one day to work in the student affairs office. When asked about leaving a legacy with the student body, they both have some words of inspiration.
"I hope I inspired people to be great," Miles nods. "I hope they see that we made a change as a team. And we couldn't have made it this far without all of them and their organizations."
"I want people to know that they can do anything no matter who they are," Pineda says. "It's not a popularity contest like it was in high school. You can make changes – it just depends on what you want to do."