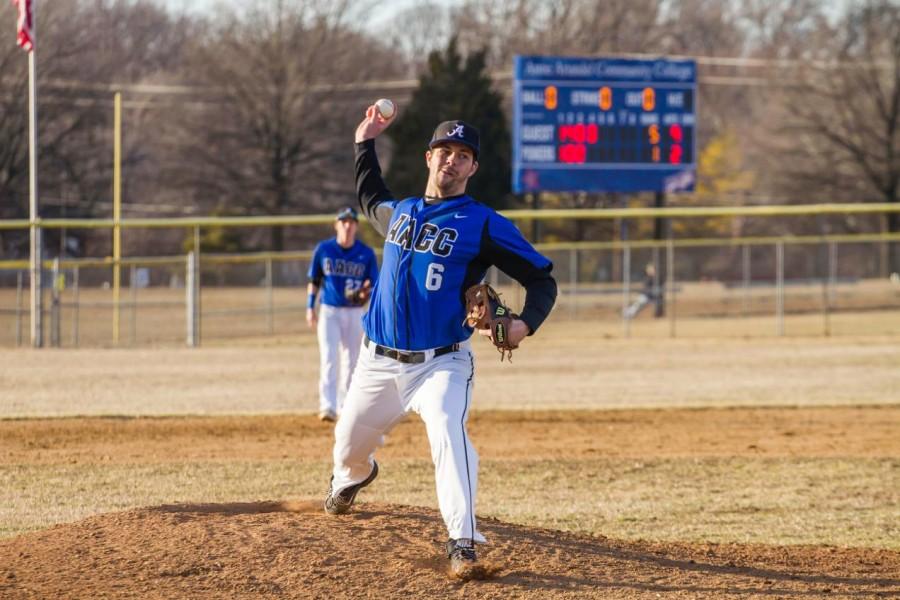 If there is one word that could describe the 2015 AACC Riverhawks Baseball team, it's hungry. Last year, the team finished with a disappointing 13-32 record under first year Coach Carl Brooks. As Brooks and his team took the field against the Maryland Monarchs, they looked to set a different tone.
With one season behind him, Brooks stands by the goals he had made last year.
"[I want to] have a program that Anne Arundel county kids want to be at and want to go to. I pride myself on keeping the Anne Arundel County kids in county," said Brooks.
Brooks also takes pride in how his team performs academically. He said he believes that the team has bought into his mantra:
"Go to school, go to class, do your work."
Led by team captains Jacob Donaldson and Jesse Lee, Brooks really believes that leadership is key this year.
"The big thing this year has been the leadership, the sophomore leadership. Jesse and Jake are exactly what you want to see in a baseball player. We have the work ethic we've never had." Coach Brooks said.
All of that is coming from the dugout. How has the team changed on the field for this upcoming season?
"Our hitting is a lot better from last year, we have a lot of power hitting," Said third baseman Michael Takovich. "Coach is going to have a hard time picking a lineup."
"We're going to be a lot better this season, I feel like. Our hitting is a lot better this year, a lot of big names," said pitcher Patrick McGinn.
Conditioning is also important this year. The team lost pitcher Kevin Fitzmaurice to some arm issues for part of last season. Players are more confident in their ability to stay healthy this season.
"I know last year we had some arm issues through the season, this year we're a lot better conditioned." McGinn said.
The team loss 11-3 to the Monarchs during the scrimmage; but played much better than the score showed. These kind of problems are somewhat expected.
"We're struggling a little bit, but we'll get there. It just takes time for everyone to get on the same page," said Donaldson. "I think we'll have a solid team once it's all squared away."
As it was said, this team is hungry and the terms "slow down" and "stop" just aren't in their vocabulary.
"The guys that were on this team last year, we had a bad taste in our mouth," Lee said. "We want to win."