Raise your Glass to the Graduating Class
Helen Nguyen, Reporter
May 4, 2015
Rain or shine, graduation is taking place on Thursday, May 21 at 7 P.M under a large tent on the athletic practice fields on the Arnold campus.
The commencement speech will be given by Maryland Comptroller, Peter Franchot. This will be the Anne Arundel Community College's 53rd Commencement.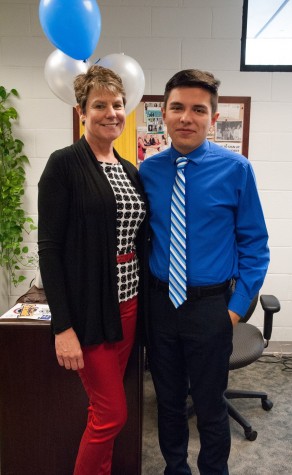 "Obviously it's a celebration and that's a great thing," exclaimed Chris Storck, the head of Student Engagement. "But at the same time I'm really going to miss the students, especially Chris Pineda and Teisha Miles. They have just done so much for this campus and they've grown so much."
Throughout the year, the campus has had a plethora of events that were dedicated to social change and reaching out to communities on campus such as pep rallies and Spirit Week, as well as communities off campus with events like Walk a Mile in Her Shoes and the Peaceful Protest for Baltimore, the majority of which were organized by Miles and Pineda, the CAB president and the SGA president.
Through the leadership of Pineda, Student Government Association has gained newfound visibility and raised a level of awareness on campus. Hopefully the footprints that have been left on campus this year will be filled in the upcoming classes of Anne Arundel Community College.
"Graduating is bittersweet because we love the campus so much we don't want to leave, but at the same time it has also prepared us for the real world," said Miles and Pineda. "AACC is home."