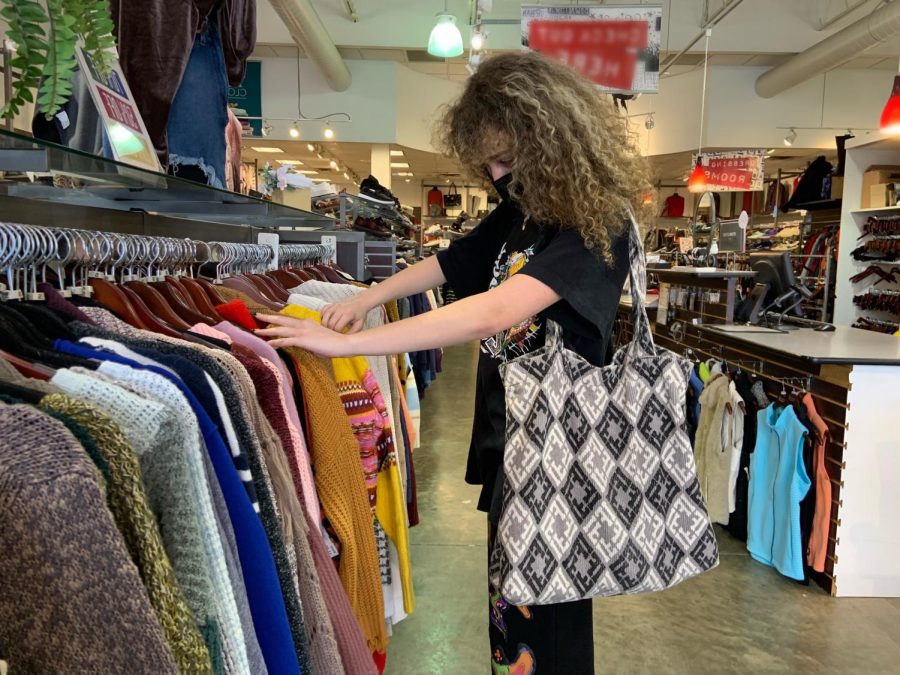 Dana Moore
Yasa Mastoi, a first-year business student, typically buys his sneakers brand-new from a store like
Champs. But when he found a pair of unused Polo sneakers at Uptown Cheapskate, a thrift shop in Annapolis, for a mere $25, he changed his shopping habits for good.
"Sometimes the clothes are cheap, and I'm broke," Mastoi said.
Uptown Cheapskate is one of the handful of thrift shops near campus that offer deals on brands that department stores sell for twice the price—or more. Students who "thrift" agreed the prices at these second-hand shops complement their bank accounts.
According to the National Association of Resale and Thrift Shops, or NARTS, more than 25,000 resale, consignment and not-for-profit shops reside in the U.S.
These shops attract consumers of all economic levels, and the age range is "across the board in this industry," Executive Director Adele Meyer said.
Thrift shopping, or thrifting, is beneficial to its customers because they save money in a sustainable way, Meyer said.
"It's always better to recycle," Meyer said.
Because thrifting helps save money, it could also open its consumers' eyes to regular stores' high pricing.
"After I had to start buying my own stuff through working," first-year business student Luis Pena said, "I'm like, 'Whoa, $60 for a shirt?'"
However, thrifting is not just about saving money. It's also about finding one-of-a-kind pieces that shoppers cannot find in full-price stores.
"I've found really nice pairs of jeans that are coincidently Levi's," Mikayla Borneman, a second-year
English student, said. "I'm like, 'Whoa, these are so nice and they fit well. Like wait; they're Levi's,' which is kind of like a bonus point."
A downside to thrifting, Meyer said, is "it may take more time to find what you're looking for, but it's a treasure hunt. You have to shop often because you never know what's going to be in store."
Gia Gilbert, a first-year forensics student, has found pros and cons to thrifting, which can make it difficult to find multiple items in a single visit. But it might be good for the environment that shoppers aren't finding as much so what they buy doesn't go to waste, she said.
As with any type of shopping, thrifters always have a favorite piece.
Gilbert said her favorite thrift-store find was a $15 Ugg purse that would have cost $200 at a department
store. For Borneman, it's the vintage Levi's she finds that are $10, compared with the going price of $200. And for Meyer, it's a $50 designer red blouse with white polka dots, which would have been $400 new.
When thrifting, luck plays a large role in a bargain-hunters' finds.
"I don't really look for brands," Pena said. "I just kind of go for whatever catches my eye and is my size."