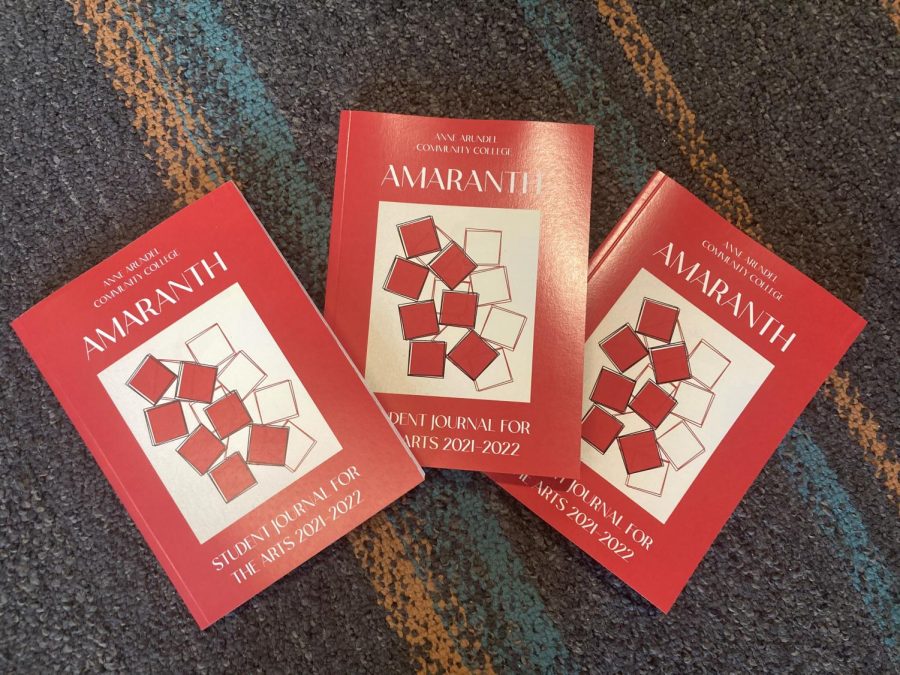 Dan Elson
The editors of AACC's student literary journal published the 47th annual edition of Amaranth on May 4.
Faculty adviser Simon Ward said seeing the culmination of a semester's worth of work is a unique experience.
"It's always an exciting part of the process when you actually see the physical copy," Ward, an English professor, said. "There is always this feeling of newness."
Amaranth publishes poems, short stories and photographs of student and alumni artwork.
Ward added a release party on Wednesday went "well, despite it being on Zoom."
AACC graduate Chris Kim, whose two short stories appear in this edition, agreed, saying, "I'm glad I showed up to the release celebration party … because so many other clubs and extracurricular activities have kind of eroded or come to a full stop."
At the party, students presented their works from the journal.
Kim added he's "not too confident" but "in the end" he's "happy to write."
"I'm still learning a lot about writing but I do get excited about creating something and sharing it because I can get feedback," Kim said.
One of Kim's stories, titled "Please Be Patient," chronicles the misadventures of a fictional driving student and his eccentric instructor.
Kim said a student driver sticker on a car he saw one day inspired his story, which he described as "absurd fiction."
"I was on the road and, you know, you always see these cars with stickers that say something like, 'Please wait: student driver,'" Kim said.
Second-year creative writing student Marquart Doty, Amaranth's treasurer, had five works published in the journal. 
Doty's short story, "Paranoia," which won an award for nonfiction, serves as a "coming of age" account of her "turbulent" childhood living in the city. 
"It's a story about growing up in Baltimore [and] dealing with mental issues, drug use, sexual assault and paranoia," Doty said.
Doty added the writing process helps her make sense of the events.
"[Writing] is a coping mechanism for me," Doty said. "[It] helps me work through it … learn from it [and] move past it."
Garrett Brown, who was Amaranth's faculty adviser for almost 10 years, said getting published in the journal is a big career step for any writer at AACC.
"The thing I like to emphasize with the journal is that it is the best way for creative writing students to see that they have skills that are applicable in the workplace," Brown said.
Brown added that the journal can help artists and writers use their skills in ways that can get them jobs. 
"Amaranth is the place where … the rubber meets the road for making a link between what is learned in the classroom and … carry with you into the job market," Brown said.