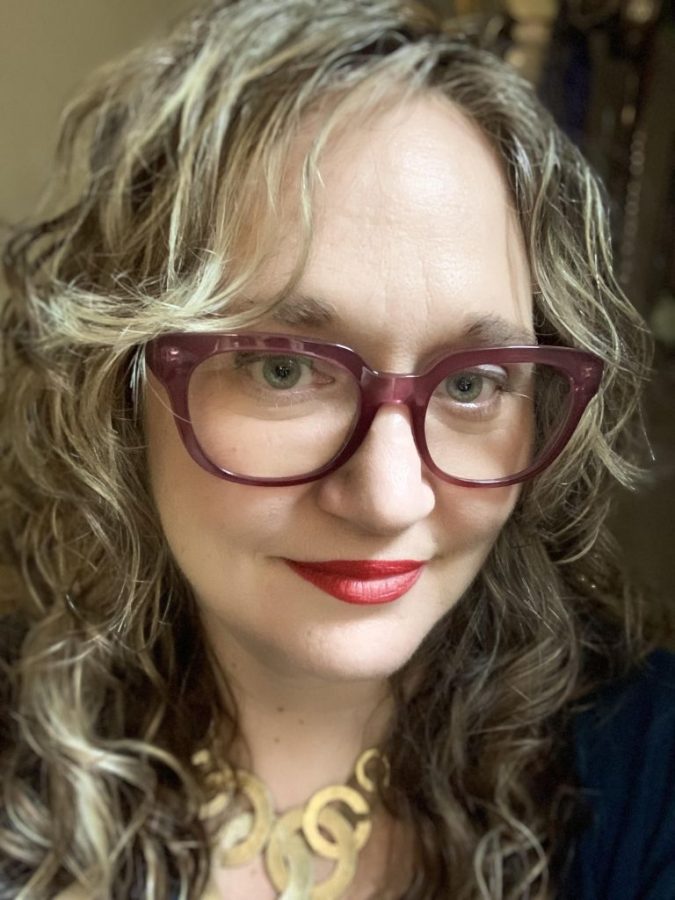 Courtesy of Susan Cohen
An award-winning poet told AACC students last week to embrace ideas for writing projects that might take them outside of their comfort zone. 
"Open yourself up to possibilities," Sheila Squillante, the director of the creative writing master's program at Chatham University, told a virtual crowd of 20 AACC students and faculty members. 
The poet, who has published poetry collections, a book on writing and a journal of nature, said that is what she did when she wrote "Mostly Human," which she described as a "coming-of-age and cosmic exploration of [the 1980s], a decade that was more harrowing than its legacy of dopey music videos might indicate." 
The book, said Squillante, who also writes nonfiction, "is the closest to fiction I've ever gotten."  
"If you're a nonfiction writer that only writes objective essays," she told the students, "it's time maybe to try writing a memoir. If you're only writing sonnets, it's time to write a big, messy, long, pages-long [piece]. Do something different. Try something different on." 
"Mostly Human," which won the 2020 Wicked Woman Prize from Brickhouse Books, takes the reader through a series of poems that track the metamorphosis of a baby through adolescence. 
"It's like a feminist coming-of-age book about adolescence and … how weird adolescence is and how strange and terrifying. … And it's also a book about escape." 
The poems describe how the baby and later the pre-teen girl experience historical events, like the explosion of the space shuttle Challenger and the nuclear disaster at Chernobyl. 
Squillante said the character is "sort of me. She does a lot of the same … interests and also fears that I had or still have, and one of them that was really big at that time was the fear of nuclear war." 
She said she drew on her own experience to find the words for her poems. 
"I sort of interview myself, which is a writing technique," she said. "You think about all the things you know about whatever your subject is … and also what you know about the time period. You think about things like shag carpeting, which is something that was ubiquitous in the '80s and '70s … artificial leather kind of stuff. I wanted to make sure that the details matched the time period." 
The book, which took her two years to write, "just came out of me, and it was fascinating to watch," Squillante said. "I never had that experience of having a character do things." 
She advised any writers in her audience to simply start writing. 
"If you wait for inspiration to come, you know you could be waiting a long time, especially at a time like this when we're all busy and we've been sitting in our homes for 11 months and everything's the same." 
Writers Reading @ AACC event organizer Susan Cohen, a creative writing professor at AACC, said she selected Squillante to read for students because of her unique writing style.  
"I invited her because I thought she would be able to help the students see other ways to write," said Cohen, a faculty adviser for Amaranth, AACC's student literary magazine. "You know [to] just give them another path, because there's so many paths and also the idea that she just chose her own weird path right. You [can] … do that too." 
Amaranth writers and editors who attended the event said they found her presentation interesting. 
"The imagery that I got was very different," second-year English and creative writing student Jasmine Holman said.  
Holman said Squillante's advice about writing helped her understand that publishing is a process that involves a lot of legwork, rewriting and even rejection. 
"I like how she didn't let rejection stop her from [continuing to send] … it out," she said. "I like that she didn't let rejection get her." 
Fourth-year creative writing student Kayla Harshaw said Squillante's words and advice resonated with her.  
In particular, she said she connected with Squillante's 30-year journey to discover herself as a writer.   
"I think writing is really just the entire time you're doing it, you're … trying to figure out who you are," said Harshaw, Amaranth's managing editor.