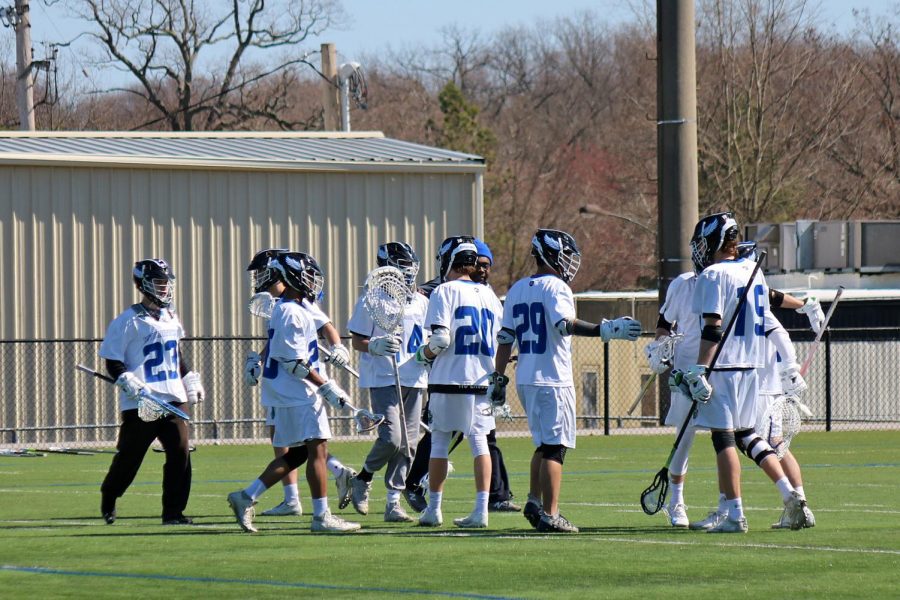 Candy Maher
Despite a practice season shortened by the pandemic, coaches and players say they expect their teams to perform well during the upcoming spring season. 
Baseball, Softball and Men's Lacrosse will start their spring seasons the first week of March, playing against nearby colleges as AACC continues to restrict their travel. 
Players made their way onto campus the first week of February to start practices, 11 months after the spring 2020 season finished halfway through when the college closed last March as a precaution against the coronavirus. 
Men's and Women's Soccer will make up their canceled fall season starting in April. The college has canceled the season for Volleyball and Men's and Women's Basketball. 
Men's Lacrosse retains strongest unit 
"We intend on picking up exactly where we left off in regards to how we conduct ourselves on and off the field," Men's Lacrosse coach Joe Stanilaus said. "We've returned a lot of strong players from last year's group and we've added a lot of strong players to this year's group, so we're excited all around." 
Attack player and second-year transfer studies student Sam Weisshaar agreed. 
"We ended the season last year looking really good as a team," Weisshaar said. "I think we have a lot of experience. We have a lot of guys returning from last year—our whole attack line— a lot of our defenders. So [getting the] … new guys acclimated to how we kind of operate will be a great first step for the season." 
Weisshaar said the team has added players with strengths the team lacked. "So with those new components, hopefully we can come together and do really well." 
In particular, Stanilaus noted, his attack unit a year ago was the strongest part of the team.  
"Without question," he said. 
The unit included Weisshaar, Trevor Collier and John Thibodeau, who ranked first, second and third place in the country in scoring, Stanilaus explained. "So, we were very fortunate to have those three guys lead our offense last year." 
Stanilaus said he hopes any weaknesses "show themselves early in the spring and we can iron them out as a group." 
Stanilaus said his top concern is that the team won't have time for scrimmages because of the abbreviated season.  
"I think a clear-cut challenge will be getting ready to play real games without scrimmages," Stanilaus said. "Usually, you have that little time between to kind of iron out the kinks and we're going to get right into it. We're going to have to really focus." 
Stanilaus said the team's "goal is to, if everything works out, be playing our best lacrosse comeback." 
Baseball relies on veteran players 
First-year Baseball coach Nick Hoffner is counting on his veteran players to lead the team to success. 
He said the team's leaders are first baseman Lennie Lehner, who doubles as a right-handed pitcher, and catcher EJ Santana. 
"They're both good hitters and play well defensively," Hoffner said. 
"They have … leadership … qualities that you look for in players so you know … we're definitely going to be counting on that," Hoffner explained. 
The coach said the new players will need guidance from the more experienced athletes. 
Hoffner said he feels "good" about the team. "It obviously helps … having some returning players from last year," he said.  
Lehner said he is optimistic about the season, too. 
"I think we got a really good shot," said Lehner, a fourth-year health science student. "We have a lot of good team guys. … I think we can really do something this year." 
Hoffner said the players are "kind of looking forward to this spring, especially after last year." 
Softball coach calls team 'flexible' 
Softball coach Guy Klingensmith cited his players' flexibility as a reason for his high expectations for the season. 
He said most of his athletes can play multiple positions. 
"Great softball knowledge and great softball awareness and … the versatility is going to be a big key for us this year," Klingensmith explained. "It's just a matter of getting out on the field and learning from each other, you know. That's the biggest key." 
"Their flexibility on the field is real, real good," he said. "That talent level right there alone, being able to play multiple positions, is key." 
Beca Compo, a Softball outfielder and returning member of the team, reiterated coach Klingensmith's optimism for the season. 
"There's a bunch of people who can throw longer, people can throw shorter," she said. "We can make it all work, and we got some big hitters on the team." 
Klingensmith acknowledged that "sophomores have moved on" so new players would be starters. 
"We definitely need to back up our pitchers in the circle," he said. "We're going to need to make the plays and back them up and [cover] the infield, and then, of course, the outfield if anything goes past [them]. But we're hoping nothing major like that happens." 
Klingensmith said "most of [the players] … have played a lot of high-level travel ball" and therefore will help deliver wins this season.   
Citing "good communication skills" among teammates, second-year health science student Compo said, "We all became friends right away. We all work hard."